A detailed guide to Goechala trek for beginners in 2022
If your question is, where and how to begin the Goechala Trek? What is the Goechala Trek Cost? What is the Goechala trek's best time? Then this article is the answer to all your questions. We have also provided a beautiful Goechala trek map below.
Goechala trek is one of India's most famous adventure treks. The trek starting point and the ending point is Yuksom West Sikkim.
It is a high-altitude trek also known as the Goechala Pass trek.
The unique thing about this trek is that it takes you to three Viewpoints, i.e., Dzongri top (Daphla Gang), Dzongrilla Pass, and Goechala Viewpoint. All these viewpoints provide breathtaking views of the mountainous landscapes.
Dzongri top viewpoint offers a panoramic view of the snowcapped Himalayas. The charming view of the world's third-highest mountain, the Kanchenjunga, is the main thing to boast about in the Goechala trek.
It goes behind a popular short trek in Sikkim known as Dzongri Trek.
The natural beauty of Goechala Trek is behind what the words can explain. In this article, We reveal the charisma of this trek in brief detail. We aren't romantic poets or literarists who can dive you into the world of imagination with every word.
But, we guarantee one thing. When you finally make it to the viewpoint, what you see there will bring a tear of joy to your eyes.
Consider the entire Goechala Trek package like a perfect adventure destination. Each passing day of the trek becomes a beautiful travel memory and experience. Goechala Trek Itinerary will take you to the world of gorgeous landscape variations.
Its phenomenal natural landscapes make Goechala trek the king of the Himalayan treks. So, It is one of the top biodiversity hotspots in Sikkim today.
This trek takes adventurers from tropical to temperate and then to alpine climates. Trekkers will start from 1,780 m and reach the highest and coldest point in Sikkim, approx 4600 meters.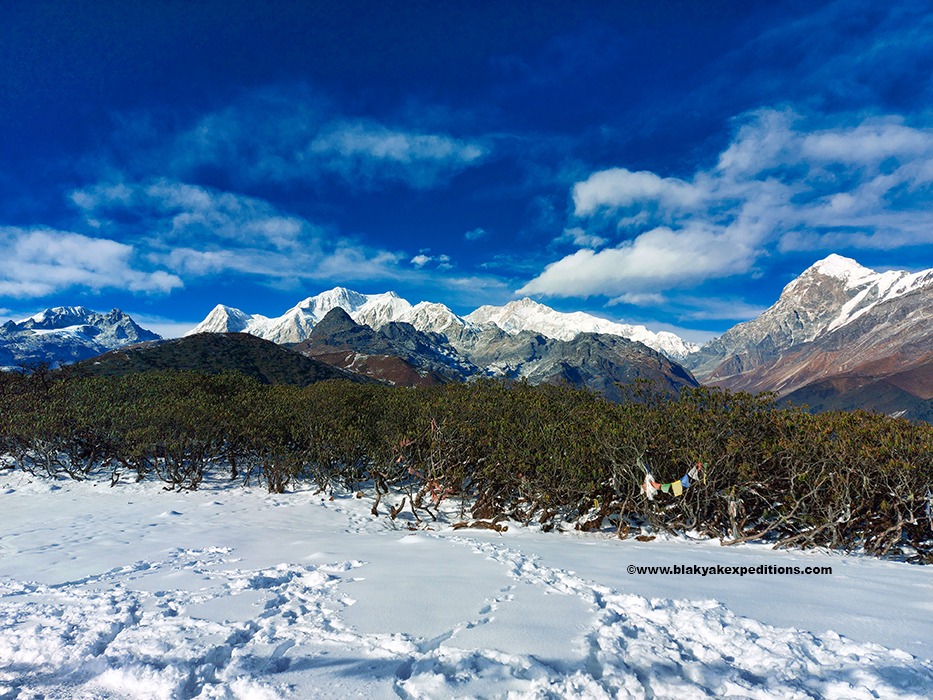 Goechala trek map allows trekkers to pass through thick, luxuriant tropical forests. One will come across pristine streams and torrent rivers. Furthermore, there are peaceful lakes, Laxmi Lake and Samiti Lake, on the trail.
Finally, exposing you to the face of Jaw-Dropping snow-laden Himalayan giants, including Mt. Kanchenjunga, the third highest mountain in the world.
Illustrated Goechala Trek Map 4k resolution
Here is the Goechala trek map, which goes through Yuksom West Sikkim. Goechala trek map provided by black yak expeditions pinpoints off the beaten track. Our map shows illustrated details of campsites.
Our map highlights the total distance from camp A to camp B.
Further, it illustrates altitude. It also pinpoints all the campsites that you will approach on the way to the Goechala trek. We have also included the height of the famous peaks in meters seen from this trek.
We have reduced the size of the Goechala trek map uploaded on our website to optimize page loading speed. But, you can download this map in 4k resolution from the google drive link here; Click Here to download
Trek Map provided by Black Yak Expeditions is for informational purposes only. You can use it for personal use, but you are not allowed to upload it on other websites and the internet.
Goechala Trek Map Distance Chart
| | | |
| --- | --- | --- |
| Sequence | Destination | Kilometers |
| 1 | Yuksom To Sachen | 8km |
| 2 | Sachen to Tshoka | 8km |
| 3 | Tshoka to Dzongri | 9km |
| 4 | Dzongri to Thangsing | 9km |
| 5 | Thangsing to Lamuney | 4km |
| 6 | Lamuney to Goechala Trek 1st viewpoint | 2.5km |
| 7 | Lamuney to Kokchurung | 7km |
| 8 | Kokchurung to Tshoka | 16km |
| 9 | Tshoka to Yuksom | 16km |
Note: This is not an itinerary. A Comprehensive Goechala Trek Itinerary is provided below.
Do you need to be serious about the Goechala trek best time? Our answer is yes! There are times when Sikkim experiences unseasonal rains or snow. Particularly in the Himalayas, the weather is unpredictable. So, choosing the wrong time for the Goechala trek can entirely ruin your trip.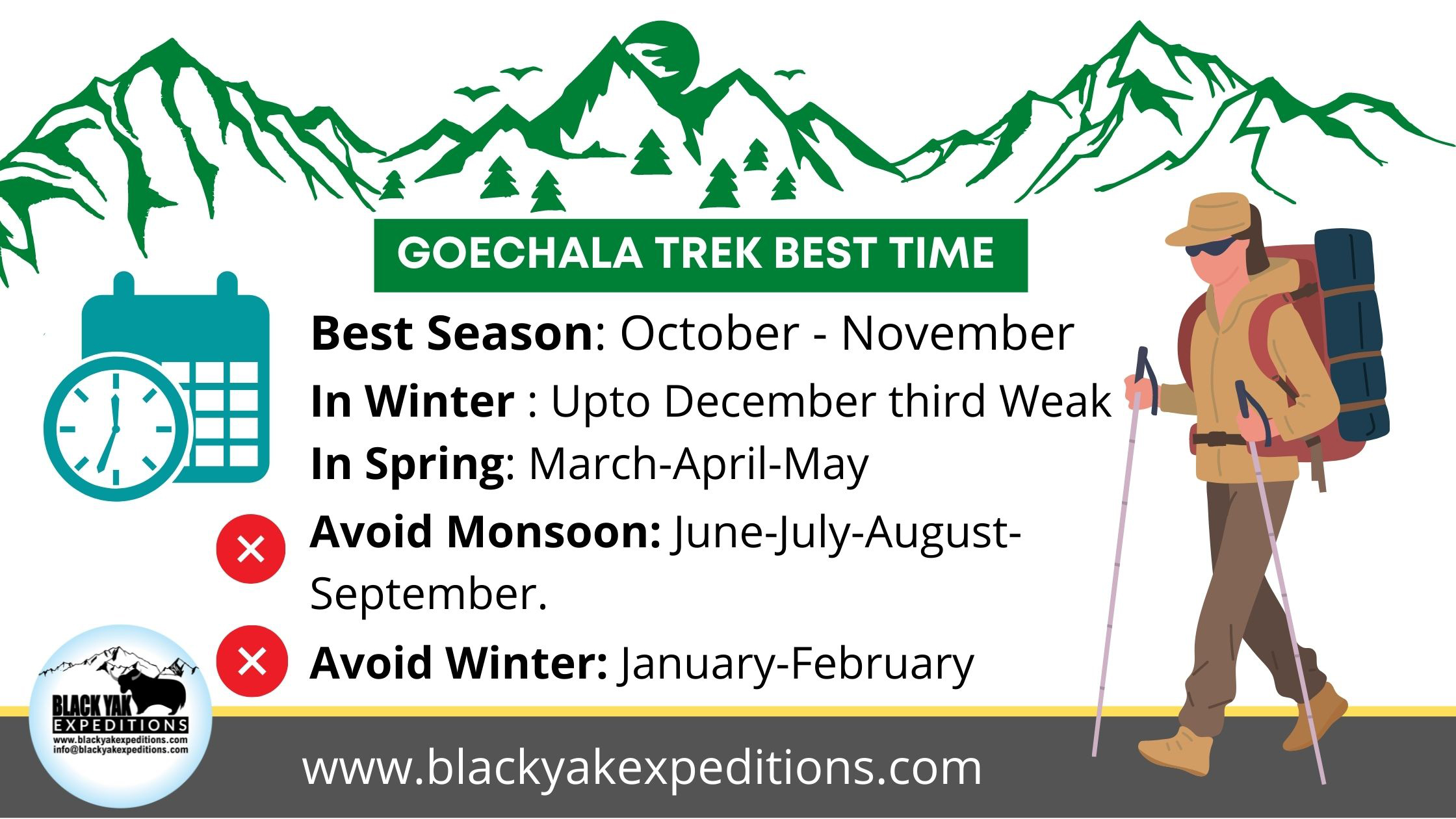 We found a lot of misleading information about the Goechala trek best time on the internet. We read that Goechala Trek is possible throughout the year in one article. We also found a long content with a month-by-month that is hilarious. The truth is it is impossible to do Goechala Trek in all seasons and months.
Most of the articles on the internet about Goechala trek best time are written without research. Due to the wrong information, many tourists have returned with a very bitter experience from this trek.
The best time to trek Goechala is during October and November. These months are the most recommended season for trekking in the region. During October and November, the rainy seasons have just passed. The weather remains clear and haze-free. Though the Himalayas are always cold, the temperature remains tolerable to some extent.
If you are thinking of Goechala Trek in December, In that case, plan for the first or second week of the month. Likely it can be possible up to the third week of December.
Trek Success Rate in winter

December
December last Week
January
February
Goechala Trek in winter, especially January and February, will likely become unsuccessful because the temperature begins to drop in winter. Small streams and wet areas on the route begin to freeze. So, the trails become slippery, and the shoes cannot penetrate the hardness.
Goechala trek routes are stony and rough. There are steep ups and downs on the trail in certain places. As a result, it becomes more complicated when the road becomes covered with thick ice. And it makes it impossible for trekkers to walk on these trails. Considering this scenario winter season is not the Goechala trek's best time.
Above all, there will be horses and yaks to carry the trekking essentials. Trekkers have food, but these poor animals depend on the fragile vegetation of the mountains. In winter, thick snowfall covers the entire area. So horses and yak animals run down to lower altitudes.
However, those who want to see and trek on Ice in Sikkim can prepare for Dzongri Trek in December. Black Yak Expeditions can organize a short winter trek up to 5 days. But, the bad news is it will be costlier because the entire trip has to depend on human resources. To explain further, horses and Yaks can't trek in the snow. So, we need to hire local staff to carry all the trekking essentials.
In winter, the temperature in the Dzongri Goechala trek will remain below minus degrees. Sometimes it can go below -15 degrees celsius. Under such a situation, it is almost impossible for trekkers to go on outdoor ventures. There is a 95% chance of an unsuccessful trek if you plan in January and February.
Goechala Trek in Spring Season
Another ideal Goechala trek best time is the spring season. March, April, and May will be best as the winter pullbacks.

You may encounter some snow in higher altitudes like Dzongri, Thangsing area. There is a 50% probability of average snowfalls during the early month of spring. There is a 30-40% chance of light rainfall in the late spring.
Do you know? Dzongri-Goechala trekking trail is full of Rhododendron and Magnolia varieties. March, April, and May are flower blooming seasons. This flowering begins in early March in the lower elevation and gradually goes up by the end of spring.
Hence, if you are the luckiest, you will be greeted by a colorful bloom of rhododendron and magnolias on the route. The rhododendron flower begins to fall in lower altitudes at the end of spring. Petals of the fallen flower add a romantic color on the way.
If you are a birding hobbyist spring months will be best for you to do the Goechala trek.
When to avoid Goechala Trek?
Avoid Goechala Trek in monsoon. Mainly June, July, August, and September. Sikkim receives the heaviest rainfall during this month. Mountainous regions will suffer from landslides and road blockages.
Most importantly Goechala trek route is filled with small streams. These streams become violent during the rainy season. The trail becomes muddy and slippery. Above all, there are fewer chances of getting the view in the monsoon.
Another month to avoid this trek is January and February. In winter possibility of Goechala Trek is up to December third week.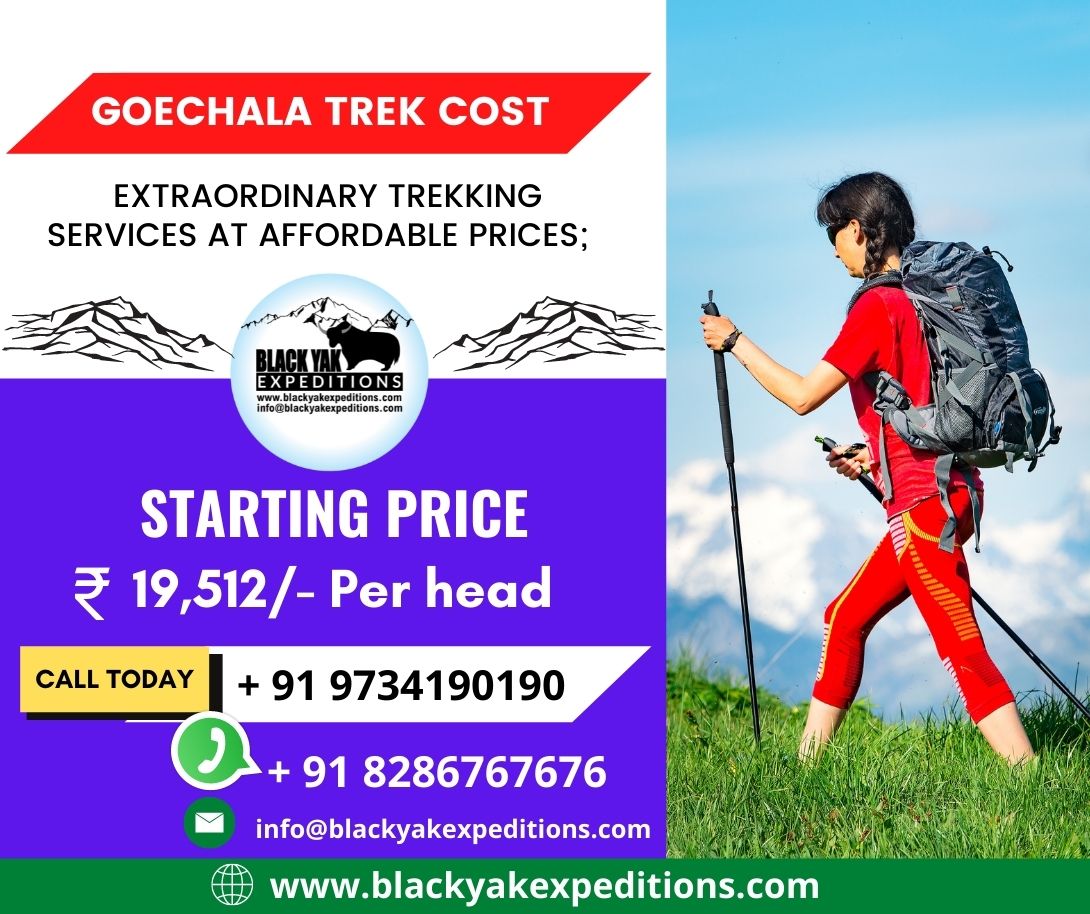 Goechala Trek Cost in Black Yak Expeditions starts from low as ₹ 19,512/- per head. We offer three flexible Goechala trek package plans to suit your budget and comfort.
We charge an additional ₹ 5,000 /- for foreigners because of extra trekking permit formalities. Besides, Kanchenjunga National Park (KNP) entry rates are higher for foreigners. We shall discuss permits details in the how-to section below.
Our three Goechala trek cost plans include;
Budget Package

Standard Package

Premium Package
Goechala Trek cost for Budget Package
Our Goechal Trek cost for the Budget package is ₹ 19,512/- per head for Indian tourists and ₹ 24,512/- per head for foreigners. Our basic package covers all the essentials once the trek starts on foot from Yuksom. It includes trekking permit charges, Knp charges, camping charges, payments for your guide, cook, kitchen staff, horses, also trekking equipment like tents, mattresses, sleeping bags, and food for the entire trek.
But it does not cover hotel or homestay charges in Yuksom. Our Goechala trek cost for the budget package plan does not cover a one-way pick-up facility.
Note; The charges for the backpacks that go on horses or yaks will be ₹ 300 /- per day per backpack. However, please note; Incase if you give your bags to the horses in the middle of the trek, charges will increase to ₹ 500 /- per day per backpack. If you need a separate private tent, the costs will be ₹ 250/- per night.
So, our Goechala trek budget package is for those who want to manage their way on their own till Yuksom.
Goechala Trek cost for standard package
Goechala trek cost for our standard package is ₹ 28,740/- per head for Indian tourists. And ₹ 33,740/- per head for foreigners. Our standard Goechala trek package also covers all features of the basic plan.
But, In this plan, you are provided a hotel or homestay for two nights in Yuksom. You will get Modified American Plan (MAP) for Hotel or homestay.
Like our budget package, If you want to load the backpacks on the horses, you have to pay it separately. Along with it, charges for one-way pickup are also excluded in this plan.
Goechala Trek cost for premium Package
Our Goechala trek cost for the premium package is 44,024/- per head for Indian tourists and 49,024/- per head for foreigners.
Our premium package includes one-way pick up from Bagdogra Airport. And New Jalpaiguri railway station. We also provide pickup from Gangtok or Pakyoung airport.
Along with it, you get a Homestay or Hotel in Yuksom with Modified American Plan (MAP). Black Yak Expeditions will bear the payment for two nights.
Other facilities include a private tent on request. Also No need to pay for uploading the backpack on this plan.
What do you mean by uploading backpacks?
If you have more than one backpack carrying it all by yourself in the Goechala trek route is impossible; hence, it will be loaded in yaks or horses. Charges for uploading backpacks are ₹ 250/- per day, per bag.
What do you mean by a one-way pickup?
Reaching Yuksom on your own is complicated, especially for new travelers. Hence, if you opt for pickup Black Yak Expeditions will arrange a vehicle. Our vehicle will pick you up from New Jalpaiguri Railway Station or Bagdogra Airport and drop you in Yuksom.
A reserved vehicle charges around ₹ 7500 /- from NJP, Bagdogra airport to Yuksom. We provide a regular vehicle, and it can adjust up to eight people comfortably. We also offer luxury vehicles on demand.
What do you mean by a Private Tent ?
We offer a large tent that can adjust up to 3 people in most cases. But if you want to prefer a private tent for staying alone, In that case, we provide an extra tent. You have to pay an additional sum of ₹ 250 per day for our budget and standard packages. But, our premium package includes the cost of a private tent too.
All Goechala trek costs on our website are estimated rates for ten people. If you are a group of fewer than ten people, our rates will increase.
We provide a 3% discount for groups of more than 15 people.
Booking Terms;
Interested trekkers should book one months before the trek, with a 50% advance. And must make full payments one day before the trek starts from Yuksom.
Refund Policy;
Black Yak Expeditions gives a full refund If you cancel your trip before one month. Transaction charges may apply especially for foreigners residing out of India.
We give a 15% refund if you cancel your trip before 15 days. No refund once the trek starts.
Mods of Payments;
We accept online bank transfers, Google Pay, and Phone Pay. We also accept Paypal If you are from outside India.
Permit requirements and obtaining procedures for Goechala Trek
Tourists must clear certain permit formalities before embarking on the Goechala trek route. There is a slightly different process for foreigners and Indian tourists to get a permit.
At first, foreigners must get an Inner Line Permit (ILP) to visit Sikkim. Obtaining an Inner Line Permit is not complicated. Indian missions and Tourism offices in Delhi, Calcutta, Siliguri provide ILP.
However, if you miss these points, Inner Line permits (ILP) can also be obtained at Melli & Rangpo checkpoints.
Keep your two passport photos and photocopies of your passport and visa handy while applying. After that, Inner Line Permits will be in your hands within less than 15 minutes.
Validity for initial Inner Line Permit is up to 15 days. A 30-day extension is available if you plan to stay in Sikkim for a few more days.
In Sikkim, the Foreign Registration Office and the Superintendent of Police can extend ILPs.
Foreigners kindly note that Your Inner Line Permit (ILP) is the key to Sikkim. Hence it is crucial. It is impossible to get Goechala Trek Permit without Inner Line Permit. Once you get your Inner Line Permit, Black Yak Expeditions will cover your trekking permit and Kanchenjunga National Park Permit.
Obtaining Goechala Trek Permit for Indian tourist;
Goechala trekkers from India don't need to apply for an Inner Line Permit, unlike foreigners. In Yuksom, there are a few formalities that Indian tourists must complete at the Police Checkpoint and the Kancehnjuga National Park Office.
Always carry your proper documents like Aadhar Card, Voter ID cards, or other supporting documents. Also, bring your pass photos.
Note: All permits for visiting places within Sikkim are issued to government-registered local travel agents only.
From where and how to begin the Goechala trek?
Goechala trek route starts from Yuksom West Sikkim. So, your first responsibility is to reach Yuksom one day before the trek begins on foot. Yuksom is a town in west Sikkim. It has an important place in the history of Sikkim.
Yuksom is the site of a coronation in Sikkim. Sikkim used to be an independent kingdom ruled by a monarch but became the 22nd state of the Indian Union on 16 May 1975. Visitors can still see a replica of the stone throne where the first king of Sikkim, Phunshok Namgyal, was sworn in.
Yuksom was the first capital of Sikkim. Besides being a great place to start the Dzongri goechala trek, it's also a great spot to learn about Sikkimese culture. Yuksom has many affordable homestays and hotels that welcome tourists with open arms.
So, here is the detailed Goechala trek route guide to reach Yuksom in 2022. Roads from all the significant towns well connect Yuksom through national highways. This section will discuss two possible options for getting Yuksom, one by reserved vehicle and the other by shared jeeps.
It is best to reach Yuksom by a reserved vehicle as it is the most comfortable and the cheapest option. You can also choose to travel by shared cab from these locations. But please note that reaching Yuksom by shared taxi is complicated.
Reserved cab will cost anywhere between ₹ 7000 to 7500/- and can adjust 6 to 7 people. The Goechala Trek cost does not cover the pickup charge in our basic and medium packages. But, our full package includes a pickup charge from any of these three points mentioned herein.
Please remember that you are to reach base camp one day before your Goechala trek itinerary starts by foot. You can't drive to Yuksom in a single day from the below-mentioned locations by shared cabs unless you schedule an extra one day before reaching Yuksom.
The nearest railway station is New Jalpaiguri Railway Station (NJP). The total distance from NJP to Yuksom is 145.9 km and can take 6 to 7 hours if you take a reserved vehicle.
Pakyong Airport near Gangtok and Bagdogra Airport in Siliguri are the two closest airports for Yuksom. The distance from Bagdogra to Yuksom is (150.2 km). And can take 6 to 7 hours by reserved vehicle.
Pakyoung airport has an air service that connects it to Delhi only. You have to book a flight from Delhi if you want to land in Pakyong. Our agents will pick you up from the airport if you have reserved a vehicle with us. The distance from the Pakyong airport to the town of Yuksom is 128.7 km.
A Guide to reach Yuksom by shared jeep
If you decide to reach Yuksom by shared jeep, then there are breakpoints on the route to keep in mind. So this section will discuss How to get to Yuksom by shared jeep?
Reaching Yuksom from NJP or Bagdogra Airport with a shared cab; After getting to NJP or Bagdogra, catch an auto and come to Siliguri Junction. You can also say Sikkim SNT Bus Stand, but Siliguri Junction is recognized well. Once you get to Siliguri Junction, ask for Jorethang Stand. From there, come to Jorethang by Shared Cab.
The distance from Siliguri to Jorethang is around 81.9 kilometers. And can take up to 3 hours. In Jorethang, climb to the third floor of the stand and ask for the Yuksom taxi stand. Anyone will direct you there.
Please note that a Shared cab from Jorethang will leave for Yuksom within 1 PM. So, you have to strive to reach Jorethng before noon. Still, there is no guarantee that you will get vacant. Locals pre-book the shared jeeps. In most cases, only one shared jeep run regularly on this route.
If you want to reach Yuksom by shared cab, at least schedule extra two days in your Goechala Trek Itinerary.
Essential Checklist before coming to Yuksom
There is no ATM in Yuksom. So if you are coming from NJP/Bagdogra, make your withdrawal at Jorethang. Once you cross Jorethang, there are no withdrawal points. Do not rely on the ATM you find on the route after Jorethang. If you are coming from Pakyong or Gangtok, make a withdrawal at Gangtok.
Network signals disappear once you venture on the Goechala Trek route after Yuksom. There are specific points in Sachen and Tshoka from where you can get a network. But, It needs lots of search and patience.
So far, Vodafone, Airtel, and Jio are reliable network service providers in Yuksom. We heard rumors that Jio network strength showed up in a specific location of the highest elevation range on the Goechala trek route.
In Yuksom Vodafone, internet speed fluctuates between 5 to 8 Mbps. It can be unreliable in the evening. Jio and Airtel are reliable for calling and basic browsing. Streaming HD videos may not work well.
Do not expect free Wi-Fi when you stay in Yuksom homestay or hotels. Because so far, there are no best fiber optic network solutions in Yuksom.
Criteria to go for the Goechala trek
If you have to go for the Goechala trek solo, there are some eligibility criteria that you have to meet. They are as follows:
The trekker has to have at least one trekking experience at a higher altitude.

The trekker must have enough stamina and courage to cross 5 km in 30 minutes without feeling stressed.

A trekker must not suffer from high blood pressure, heart problem, epilepsy, and asthma.

No trekker should carry expedition bag packs of more than 10 – 15 kgs.
Fitness required for Goechala Trek
Since Goechala trekking involves physical activities, one has to be fit and fine to climb the mountains. This fitness regime is a part of the Goechala trek guide. Here is the BMI chart that trekkers should abide by:
| | |
| --- | --- |
| BMI Range | Category |
| Less than 16.5 | Severely underweight |
| 16.5 – 18.5 | Underweight |
| Underweight | Normal |
| 25 – 30 | Overweight |
| 30+ | Obese |
| 30 – 34.9 | Obese class I |
| 35 – 39.9 | Obese class II |
In case you do not have the correct BMI, consult your physician before you plan for the Goechala trek. Also, make sure you do not suffer from any chronic illness.
Do not mistake the Goechala trek with other typical tours. Sometimes you have to face harsh weather conditions. Each passing day leads you to places with unpredictable temperature drops.
It is an adventure trek with challenging routes. Places like Thangsing and Lamuney are prone to strong winds. Likewise, walking on the way to Kokchurung needs balance and attentiveness.
Slight rainfall or snowmelt makes the trail muddy and slippery. In certain places, you have to wake up in the night around 3 or 4 for viewpoints—for example, Lamuney and Dzongri top.
So trek demands careful preparation from your side too. Rest assured that Black Yak Expeditions leaves no stone unturned for the management. In the meantime, we provide a checklist to pack from your side for your comfort.
| | |
| --- | --- |
| Trekking Bags | Thermos Flask |
| Trekking Sticks | Personnel Medical Kits (Black Yak Expeditions guides are equipped with medical kits as well) |
| Torchlight | Lip Balm, moisturizers, sunscreen, toothbrushes, |
| Waterproof trekking shoes with proper sole grip | Carry quality hand sanitizers and, if possible, carry portable pen-size UV water filters. |
| Waterproof/windproof jackets and trousers | Balaclava |
| Mountain wear, thermals | Waterproof gloves, Floaters |
| Warm shocks | Toilet paper |
| Fleece T-shirts | Sunglasses |
| Fleece jackets | Sun cap, Woolen cap, Neck gaiters |
| Poncho | Snacks, hydration pack |
Short Goechala Trek Itinerary
So far, we have covered the following topics;
Goechala Trek Map.

Goechala Trek Cost.

Goechala Trek Best Time.

Where and How to start for Goechala Trek?
We are going to discuss the Goechala Trek Itinerary in this section. A brief itinerary with essential points has been provided first. After this, you will find a detailed Goechala trek itinerary below.
---
Day 1: Reach Yuksom
Reach Yuksom from preferred destinations like New Jalpaiguri Railway Station (NJP)/Bagdogra Airport/Pakyong Airport.

Total distance:

150 km.

Estimated Time:

6 to 7 hours. Check-in at Hotel or homestay in Yuksom.
Day 2: Yuksom To Sachen
Start on foot from Yuksom to Sachen.

Distance:

8 km.

Estimated Time:

4 to 5 hrs.

Altitude Gain:

2300 meters.
Day 3: Sachen to Tshoka
Distance: 8 km.
Breakpoint: Bakhim
Estimated Time: 5 to 6 hours.
Altitude Gain: 2963 meters.
Day 4: Tshoka to Dzongri
Distance:

9.5 km.

Breakpoint:

Phedang

Estimated Time:

6 to 7 hours.

Altitude Gain:

3959 meters.
Day 5: Dzongri Acclimatization
Go to Dzongri top in the morning and Dzongrila Pass during the day.
Day 6: Dzongri to Thangsing
Distance: 9 km.
Breakpoint: Kokchurung.
Estimated Time: 6 hours.

Altitude Gain:

3936 meters
Day 7: Thangsing to Lamuney
Distance:

4 km.

Estimated Time:

2 to 3 hours.

Elevation Gain:

4138 meters.
Day 8: Lamuney to Goechala Viewpoint 1 and ascend down to Kokchurung
Distance: 3.4 km.

Estimated Time:

2.5 hrs.

Elevation Gain:

4603 meters.
Ascend down to Kokchurung after coming down to Lamuney Camp from Goechala trek viewpoint 1.
Lamuney to Kokchurung

Distance:

6.5km.

Altitude Drop:

3686 meters.

Estimated Time:

1 to 2 hours.
Day 9: Kokchurung to Tshoka via Phedang
Distance:

16

km.

Estimated Time:

5 to 6 hours.
Day 10: Tshoka to Yuksom
Distance:

16 km.

Estimated time:

5 to 6hrs.

Altitude drop:

1743 meters.
---
Detailed Goechala Trek Itinerary
In this section, you will find elaborated content of the Goechala Trek Itinerary.
Day 1: Reach Yuksom
The Goechala trek route map begins from the NJP station, where our representatives will welcome you warmly around 10 am. From there, you will head straight to Yuksom in a drive of 8 hours. Being a primary location in Yuksom, you can explore a lot about Sikkim's rich tradition and culture. Here, you need to complete two important paper works. The first one is to take permission from the police station to keep track of the official records about the trekking. The second one is the safety measures that you need to abide by. The next stop is Jorthang, where trekkers will have lunch comfortably. After lunch, keep trekking till you reach Yuksom.
Day 2: Yuksom to Sachen
Although many trekkers believe in trekking till Tsokha in one go, it can be very tiring and make one physically exhausted. In this trail one will not find any telecom service or shops. Since it is a tiresome day, one needs to carry one's own lunch. Crossing the vast landscape, trekkers will land in front of the Rathong river. Next, the trek takes a sharp turn toward the forest lands. In case trekkers face a shortage of sunlight, they can use their personal torches. The trek through the forest will take 30 minutes, and then they reach to view the fantastic Tshushay Khola waterfall. From here, trek through the next iron bridge and head towards the campsite.
Day 3: Sachen to Tsokha via Bakhim
The next day, you get to see a clear morning in Sachen and start your day with a 5 – 7 hours long trek to Tsokha. This hiking trail is sure to make you fall in love with nature, especially when you view the magnificent magnolias and rhododendrons while trekking. The crystal-clear water of the river Perk looks mesmerizing. On the way, trekkers can get a glimpse of Mount Pandim and Mount Tenzinkhay. Just after you reach Bakhim, trekkers will be offered a short break to refresh themselves. Once you have filled the bottles in Bakhim and had your share of resting, start again amidst the berries of the alps towards Tsokha, which is another 2 kms.
Day 4: Tsokha to Dzongri via Phedang
On the following day of the trek, one will enroute to Dzongri and then to Phedang. Phedang is the central point of the whole distance. Here, the hikers should pack enough lunch and water as there is no other source of water and food in between the trek. As soon as the trekkers start, they will leave behind Tsokha and move forward amidst the rhododendrons. The pathway looks quite romantic, especially if you visit in the spring season. Although you start your trek in rocky terrain, gradually move ahead to a paved path made of wooden logs. However, the roadway to Phedang is again a bit difficult to trek as there are lots of pebbles. In Phedang, view the scintillating beauty of nature, enjoy lunch and take some rest. Getting to such a high altitude, some of you may suffer from mountain sickness or nausea. Finally, reach the campsite and take adequate rest.
Day 5: Resting day in Dzongri
The next day begins by reaching the top of Dzongri. After a tedious trek last day, today it is time to take some rest and relax at the campsite. Also, your body needs some time to get adjusted to the high altitude. The view from Dzongri is not just mesmerizing but also helps rejuvenate and prepare you for the next day. Here, trekkers can find a lot of Tibetan prayer flags that flutter frantically in the cool breeze. What makes this location a must-watch is the impressive snow-covered Himalayan peaks. From here, trekkers can take pictures of other mountain peaks like Mount Pandim, Narsing, Jupono, Simro, and others. On the fifth day, explore the area during the day and take rest at night.
Day 6: Dzongri to Thansing via Kokcharang
From Dzongri, trekkers will move on an 8-km journey to Thansing after crossing the Kokcharang. The forest areas at the initial trail are filled with dense rhododendron plantations. Then trekkers descent to Kokcharang, where hikers can enjoy a drink. Trekkers can also refill water for the remaining trek route. You can make use of the huts available at Kokcharang. Without wasting much time, start walking down the bridge of the Prekchu river. Next trek for 2 kms to Thansing. Since the trail is smooth at the beginning and becomes rough while you proceed, trekkers need to be careful while trekking. The temperature is relatively high, so proper clothes should be worn.
Day 7: Thansing to Lamuney
On this day, the morning trek starts from 8 am with breakfast at 9 am, and the Goechala trek fixed departure at 10 am. The seventh day is the most fun-loving day. The road to Lamuney is relatively smooth. However, trekkers face a little bit of difficulty climbing the steep rocky areas as they move forward. In Lamuney, trekkers can enjoy their lunch and take little rest. 2 kms from Lamuney lie the Samiti Lake that trekkers will prefer exploring. Distance from Lamuney to Samiti Lake can be easily covered in an hour. The tour guide will provide briefs of the next day at the campsite as it will be a hectic one. In the night, enjoy the chilling weather along with the clear night sky. Have a good sleep as the next day should be begun quite early.
Day 8: Lamuney to Goechala via Samiti Lake back to Lamuney
The eighth day is the longest and the most challenging day of the lot, where the trekkers have to go to Goechala and return to Lamuney. The distance to be covered in 13 hours. The next day, trekkers will be called at 1 am. morning. Since trekkers need to ascend and descend a long journey, it is wiser to start early. Also, the earlier trekkers leave for Goechala, the better view they will get of the sunrise in the Himalayan range. Some of the peaks that trekkers can spot here are Kabru North, Kabru South, Kabru Dome, Sinvo, Gocha Jupano, Pandim, Kanchendzonga, and Tenzinkhay. After an entire tiresome day, reach the campsite at Lamuney and cherish a hot lunch. Keep your belongings packed and get prepared for the next campsite at Thansing or Kokcharang.
Day 9: Thansing or Kokcharang to Tsokha via Phedang
The next day is a 7-hour trek to cover 16 kms to reach Phedang. The day starts at 7 am so that you can reach the destination by 3 – 4 pm. Carry packed lunch to avoid stopping in between. In the first trail, trekkers have to cross Dzongri without having to travel through too much of a diverse road. Since the path does not consist of any steep ways, the environment here is quite fascinating. The most magnificent in this trail is the snow-covered peak of Mount Pandim. The cool breeze of the mountains is very relaxing and refreshing. After taking the desired rest, trekkers will continue trekking till Tsokha, about 5 kms from Phedang. Avoid too many breaks as trekkers will have to reach Tsokha before it is dark. Have a good night's sleep as the next day is quite hectic.
Day 10: Tsokha to Yuksom via Bakhim and Sachen
Today, the targeted destination is Yuksom which trekkers have to reach via Bakhim and Sachen. The ideal time to cover this distance is 7 hours. Packed lunch is carried as the break time needs to be reduced to reach the destination fast. The trail for coming down is the same as that of ascending to Goechala. The road from Sachen is not a favorable one as the pathway has a zigzag pattern. However, it can cause trekkers physical exhaustion but is only a few meters. Refresh yourself and take a shower on reaching Yuksom town. You can also take a look at the Sikkim monasteries to know more about their culture.
Day 11: Yuksom to NJP
This is the last and the final day of trekking. The ideal time to start the day is at 8 am. The distance to be covered is 150 km and will take nearly 8 to 9 hours. Get back to Jorthang and enjoy lunch from one of the several eateries available. If the trains from NJP station are not available, wait for a day. However, you can reach NJP approximately by 5 pm.
Goechala Trek at a Glance
Let's take a brief overview of the
Goechala trek
:
Region – Sikkim (India)
Duration – 9 – 11 days
Difficulty level – moderate to difficult
Maximum altitude – 4600 meters.
Trekking distance (approx.) – 90 km
Staring and ending points – Yuksom
Temperature range – March to April: 15 to 22 degrees (days) and -1 – 7 degrees (nights); October to November: 8 to 10 degrees (days) and minus 1 to 2 degrees (nights)
Best time for Goechala trek: March, April, and May in spring, and October to November in autumn and December up to the second week in winter.
Nearby railway station: New Jalpaiguri, which is 150 km away from Yuksom
Airport: Bagdogra airport, which is 155 km away from Yuksom
ATM: Jorethong is the last ATM point before you begin for Goechala trek
Base camp: Yuksom

Minimum age limit: 12 years
Highlighting Features of the Goechala Trek
This stunning Goechala trek has some key highlights. They are;
Since the trekking starts from Yuksom, trekkers get an opportunity to explore the culture of Sikkim and its rich tradition here. In Yuksom, trekkers will find wooden fences at the pathways trail.

Secondly, while trekking, trekkers are sure to get amazed at the mesmerizing mountain peaks of the famous Kanchenjunga covered in snow along with the lush green meadows. You will leave behind the green landscapes at the foothills as you step up. The beauty of Kanchenjunga from Yuksom is so splendid that trekkers can spend hours simply gazing at it.

In this Goechala trek package, trekkers will get to view the captivating Mount Pandim, Kabru, and Rohtang.

Finally, all nature lovers are sure to love to go for the Goechala trek as it consists of several destinations where the beauty of nature is glorified at its best.
Is Goechala Trek Safe?
Yes, we offer this service because we have a lot of experience in the Goechala trek. Above all, we are locals born at the foothills from where the Goechala trek map starts.
We strive to ensure your safety during your trip. At Black Yak Expeditions, we have a team of experienced and dedicated trekkers who are experts on the Goechala trek Route. We aim to ensure your trip goes smoothly and you have a great time.
We are well-equipped to handle any emergency and have trained guides who will assist you in any way possible.
We will assign a professional local expedition guide to your group who has expertise in the area.