The natural beauty of Goechala Trek is behind what the words can explain. In this article, We reveal the charisma of this trek in brief detail with Goechala trek photos. We aren't romantic poets or literarists who can dive you into the world of imagination with every word.
But, we are hundred percent sure in one thing. That is, when you finally make it to the Goechala Trek viewpoint, what you see there is going to bring a tear of joy in your eyes.
Consider the entire Goechala Trek package like a perfect adventure destination. Each passing day of the trek becomes a beautiful travel memory with a myriad of experiences. Goechala Trek Itinerary will take you to the world of gorgeous landscape variations.
Goechala trek is the king of the Himalayan trek in Sikkim because of its phenomenal natural landscapes. There is a reason to consider it as the top biodiversity hotspot in Sikkim.
This trek takes adventurers from sultry tropical to temperate and then to alpine climate. Trekkers will start from 1,780 m and reach the highest and coldest point in Sikkim, approx 4600 meters.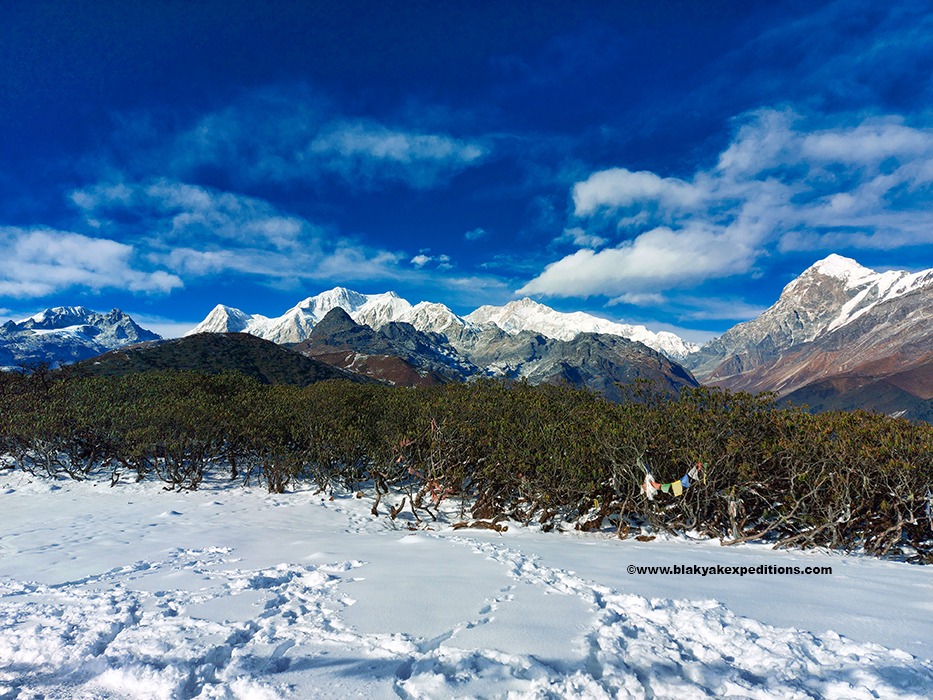 It is a place where clouds do not dare to venture. Instead, rain and moisture roam around the mountain landscapes in the form of fog and mist.
Goechala trek allows trekkers to pass through thick, luxuriant tropical forests. One will come across pristine streams, rivers in torrents, and peaceful lakes throughout the trail. Finally, exposing you to the face of Jaw-Dropping snow-laden Himalayan giants, including Mt. Kanchenjunga, the third highest mountain in the world.
It goes behind popular short trek in Sikkim known as Dzongri Trek.
Let's take a brief overview of the Goechala trek:
Region – Sikkim

Duration – 9 – 11 days

Difficulty level – moderate to difficult

Maximum altitude – 15,100 ft.

Trekking distance (approx.) – 90 kms

Staring and ending points – Yuksom

Temperature range – April to June: 15 – 22 degrees (days) and -1 – 7 degrees (nights); September to November: 10 – 15 degrees (days) and -5 – 5 degrees (nights)

Best time for

Goechala trek

: end of April, May and from September to November

Nearby railway station: New Jalpaiguri, which is 150 kms away from Yuksom

Airport: Bagdogra airport, which is 155 kms away from Yuksom

ATM: Jorethong is the last ATM point before you begin for

Goechala trek

Base camp: Yuksom

Minimum age limit: 12 years
There are several reasons to fall in love with the beautiful Goechala trek. The spectacular view of the Kanchenjunga from which you can view the tear-shaped Goechala lake, the mind-blowing sunrises, the gigantic Himalayas covered in snow, the sixteen incredible peaks from the top of Dzongri, the Himalayan Forest, the rivers meandering amidst the mountains, the beautiful rhododendrons, what else do you need to make your trek enjoyable! Trekkers are sure to enjoy this trek as you will experience the adrenaline rush while climbing up and down the steep mountain trails while basking in the magnificent sun rays that glimmers on the mountain tops.
From time immemorial, Sikkim has been an exciting trekking location. Goechala in Sikkim is one of the most favored locations for trekking because of its unbeatable charm, radiant flora and fauna, dense green forest, beautiful orchards, and charismatic ambiance. All these never fail to entice the trekkers. Since Darjeeling is a close pathway to Sikkim, one can choose to go for the Goechala trek from here easily.
Highlighting Features of the Goechala Trek
This stunning and spectacular Goechala trek has some key highlights. They are:
Since the trekking starts from Yuksom, trekkers get an opportunity to explore the culture of Sikkim and its rich tradition here. In Yuksom, trekkers will find wooden fences at the trail of the pathways.

Secondly, while trekking, trekkers are sure to get amazed at the mesmerizing mountain peaks of the famous Kanchenjunga covered in snow along with the lush green meadows. As you step up, you will leave behind the green landscapes at the foothills. The beauty of Kanchenjunga from Yuksom is so splendid that trekkers can spend hours simply gazing at it.

In this

Goechala trek package

, trekkers will get to view the captivating Mount Pandim, Kabru, and Rohtang.

Finally, all nature lovers are sure to love to go for the Goechala trek as it consists of several destinations where the beauty of nature is glorified at its best.
Since the base camp of the Goechala trek is held in Yuksom, you two options to reach there. One is by train and the other by flight.
In the southwest of Sikkim, you will find the New Jalpaiguri or NJP railway station. Several trains pass through this station. You can start from Kolkata and catch a train that will take you to NJP. If you are heading from any northern part of India, say Delhi, catch any northeastern train that will bypass Kolkata and take you to NJP.
Another great option to reach Yuksom is to choose a flight and fly to Bagdogra. Although this is an expensive option, flights are available from all metropolitan cities.
[Note: Once you step down either at the NJP station or Bagdogra airport or bus stop, many shared taxis are available that are shared between 5 – 6 trekkers. The approximate taxi fare is near about Rs.3500/-.]
Best Time for Goechala Trek
Once you start planning the trek, your primary goal is to enjoy the trek to the fullest. In order to have optimum fun, you need to trek during a suitable time. Since Goechala is at a very high altitude, there are two suitable seasons for the Goechala trek:
Spring season
The months of April and May is generally known as the flower blooming time. This flowering begins in early March in the lower elevation and gradually goes up by the end of spring. The two most common species of flowers found during this time are Rhododendrons and Giant Magnolia. Since the spring season has a misty atmosphere, one cannot view the mountains clearly. However, if you love bird-watching, then this is the ideal time. Occasionally, you may experience some snowfall.
Autumn season
If you want to view the mountains clearly, the time from September to December is ideal. Along with the mountains, you get to see the beautiful sunrise and sunset where the vibrant sun rays appear to kiss the mountain peaks, and the snow accumulated on top of the mountains shimmer. However, the temperature becomes freezing from the end of November. Since Goechala is at a very high altitude, chances of heavy snowfall are also high.
A Note of Caution: It is better to avoid trekking from June to mid-September because landslides occur due to the monsoon. The roads are slippery and muddy, thereby making it very difficult to trek at ease. Again, in the months of January to mid-March, the temperature in Goechala remains as low as -20 degrees which may make trekkers feel very uncomfortable while trekking.
Brief Goechala Trek Itinerary
Day 1: NJP to Yuksom
Altitude – 5700 ft.

Drive for 150 kms for 8 hours

Pick-up at NJP railway station at 10 am.

Pas through police check post. Foreigners need Inner Line Permit. The entire procedure does not take more than half an hour.

From NJP to Melli.

Lunch break at Jorthang.

Last ATM at Legship.

Base camp at Yuksom with night stay in the guest house.

People from Bangladesh, China, and Myanmar are not allowed to trek in Sikkim.

Foreigners need special permission to trek in Sikkim.
Day 2: Yuksom to Sachen
Altitude: 7200 ft.

Trek 8 kms for approximately 6 hours.

Abundant water resources but no shop in the trail and disturbed telecom services.

See Tsokha after walking for 2 hours from Yuksom.

The trail passes through three iron bridges. Walk for half an hour to the campsite.

Walk by sticking to the mountainside to make way for the animals.

Reach campsite and accommodate in tents.
Day 3: Sachen to Tsokha via Bakhim
Altitude: Bakhim at 8600 ft. and Tsokha at 9700 ft.

Trek 7 kms for 5 hours.

Walk pleasantly till the last iron bridge.

Till Bakhim, spot the peaks of Mt. Pandim, Tensinkhay, etc.

Refill water at Bakhim and enjoy hot tea.

Trek 2 kms from Bakhim to Tsokha.

Lunch at campsite.

Night stay in tents.
Day 4: Tsokha to Dzongri via Phedang
Altitude: Phedang at 10500 ft. and Dzongri at 12980 ft.

Trek 9 kms for 7 hours.

Tsokha to Phedang – 4.5 kms for 3 hours and Phedang to Dzongri – 4.5 kms for 3 hours.

Initially, the trail is rocky, followed by a wooden trail and zigzag pathway.

Take enough water and lunch as there is no source of food and water.
Day 5: Resting day in Dzongri
Trek to the top of Dzongri at 13675 ft. for 1 hour.

Spot the peaks of

Frey Peak, Kumbakarana, Rathong, Kabru South, Kabru North, Kabru Dome, Kangchenddzonga, Jupono, Pandim, Simro.

Instead of sleeping, explore the surrounding areas.
Day 6: Dzongri to Thansing via Kokcharang
Altitude: Kokcharang at 12000 ft. and Thansing at 12900 ft.

Trek 10 kms for 6 hours.

Trek for 4 hours from Dzongri to Kokcharang.

Refill water at Kokcharang.

Walk towards the bridge in Prechku river and then trek for 2 kms to Thansing.

Enjoy your lunch at the campsite.
Day 7: Thansing to Lamuney
Altitude: 13650 ft.

Trek 4 kms for 2 hours.

Tea at 8.00 am, breakfast at 9.00 am, and start journey to Lamuney from 10.00 am.

Easy trek through the trails.

Have lunch at the campsite.

Trek again for 2 kms towards Samiti Lake.
Day 8: Lamuney to Goechala via Samiti Lake back to Lamuney
Trek to Thansing.

Altitude – 15100 ft.

Trek 18 kms for 13 hours.

Toughest and longest day of the trek.

Keep things ready at night as trekkers will be called at 1.00 am at night to start for Goechala.

Walk for an hour toward Samiti Lake.

Trek from Lamuney to Goechala View Point for 3 hours.

Descend to Lamuney for lunch.
Day 9: Thansing or Kokcharang to Tsokha via Phedang
Altitude – Thansing at 12900 ft. and Kokcharang at 12000 ft. as well as Tsokha at 9700 ft.

Trek 16 kms for 7 hours.

Start at 7 am to reach Tsokha by 3 pm.

Carry packed lunch.

Descent from Phedang to Tsokha by trekking for 5 kms.
Day 10: Tsokha to Yuksom via Bakhim and Sachen
Altitude – 5670 ft.

Trek 15 kms for 6 hours.

The trail is similar to day 2 and 3.

Carry packed lunch.
Day 11: Yuksom to NJP
Drive 150 kms for 8 hours.

Reach NJP by 5.00 pm by starting from Yuksom early in the morning.

Keep your bag packed at night, so you don't have to rush.
Criteria to go for the Goechala trek
If you have to go for the Goechala trek solo, there are some eligibility criteria that you have to meet. They are as follows:
The trekker has to have at least one experience of trekking at a higher altitude.

The trekker must have enough stamina and courage to cross 5 kms in 30 minutes without feeling stressed.

A trekker must not suffer from these conditions – high blood pressure, heart problem, epilepsy, and asthma.

No trekker should carry expedition bag packs that weigh more than 10 – 15 kgs.
Detailed Goechala Trek Itinerary
Let's take a look at the Goechala trek itinerary in details:
Day 1: NJP to Yuksom
The Goechala trek route map begins from the NJP station, where our representatives will welcome you warmly around 10 am. From there, you will head straight to Yuksom in a drive of 8 hours. Being a primary location in Yuksom, you can explore a lot about Sikkim's rich tradition and culture. Here, you need to complete two important paper works. The first one is to take permission from the police station to keep track of the official records about the trekking. The second one is the safety measures that you need to abide by. The next stop is Jorthang, where trekkers will have lunch comfortably. After lunch, keep trekking till you reach Yuksom.
Day 2: Yuksom to Sachen
Although many trekkers believe in trekking till Tsokha in one go, it can be very tiring and make one physically exhausted. In this trail one will not find any telecom service or shops. Since it is a tiresome day, one needs to carry one's own lunch. Crossing the vast landscape, trekkers will land in front of the Rathong river. Next, the trek takes a sharp turn toward the forest lands. In case trekkers face a shortage of sunlight, they can use their personal torches. The trek through the forest will take 30 minutes, and then they reach to view the fantastic Tshushay Khola waterfall. From here, trek through the next iron bridge and head towards the campsite.
Day 3: Sachen to Tsokha via Bakhim
The next day, you get to see a clear morning in Sachen and start your day with a 5 – 7 hours long trek to Tsokha. This hiking trail is sure to make you fall in love with nature, especially when you view the magnificent magnolias and rhododendrons while trekking. The crystal-clear water of the river Perk looks mesmerizing. On the way, trekkers can get a glimpse of Mount Pandim and Mount Tenzinkhay. Just after you reach Bakhim, trekkers will be offered a short break to refresh themselves. Once you have filled the bottles in Bakhim and had your share of resting, start again amidst the berries of the alps towards Tsokha, which is another 2 kms.
Day 4: Tsokha to Dzongri via Phedang
On the following day of the trek, one will enroute to Dzongri and then to Phedang. Phedang is the central point of the whole distance. Here, the hikers should pack enough lunch and water as there is no other source of water and food in between the trek. As soon as the trekkers start, they will leave behind Tsokha and move forward amidst the rhododendrons. The pathway looks quite romantic, especially if you visit in the spring season. Although you start your trek in rocky terrain, gradually move ahead to a paved path made of wooden logs. However, the roadway to Phedang is again a bit difficult to trek as there are lots of pebbles. In Phedang, view the scintillating beauty of nature, enjoy lunch and take some rest. Getting to such a high altitude, some of you may suffer from mountain sickness or nausea. Finally, reach the campsite and take adequate rest.
Day 5: Resting day in Dzongri
The next day begins by reaching the top of Dzongri. After a tedious trek last day, today it is time to take some rest and relax at the campsite. Also, your body needs some time to get adjusted to the high altitude. The view from Dzongri is not just mesmerizing but also helps rejuvenate and prepare you for the next day. Here, trekkers can find a lot of Tibetan prayer flags that flutter frantically in the cool breeze. What makes this location a must-watch is the impressive snow-covered Himalayan peaks. From here, trekkers can take pictures of other mountain peaks like Mount Pandim, Narsing, Jupono, Simro, and others. On the fifth day, explore the area during the day and take rest at night.
Day 6: Dzongri to Thansing via Kokcharang
From Dzongri, trekkers will move on an 8-km journey to Thansing after crossing the Kokcharang. The forest areas at the initial trail are filled with dense rhododendron plantations. Then trekkers descent to Kokcharang, where hikers can enjoy a drink. Trekkers can also refill water for the remaining trek route. You can make use of the huts available at Kokcharang. Without wasting much time, start walking down the bridge of the Prekchu river. Next trek for 2 kms to Thansing. Since the trail is smooth at the beginning and becomes rough while you proceed, trekkers need to be careful while trekking. The temperature is relatively high, so proper clothes should be worn.
Day 7: Thansing to Lamuney
On this day, the morning trek starts from 8 am with breakfast at 9 am, and the Goechala trek fixeddeparture at 10 am. The seventh day is the most fun-loving day. The road to Lamuney is relatively smooth. However, trekkers face a little bit of difficulty climbing the steep rocky areas as they move forward. In Lamuney, trekkers can enjoy their lunch and take little rest. 2 kms from Lamuney lie the Samiti Lake that trekkers will prefer exploring. Distance from Lamuney to Samiti Lake can be easily covered in an hour. The tour guide will provide briefs of the next day at the campsite as it will be a hectic one. In the night, enjoy the chilling weather along with the clear night sky. Have a good sleep as the next day should be begun quite early.
Day 8: Lamuney to Goechala via Samiti Lake back to Lamuney
The eighth day is the longest and the most challenging day of the lot, where the trekkers have to go to Goechala and return to Lamuney. The distance to be covered in 13 hours. The next day, trekkers will be called at 1 am. morning. Since trekkers need to ascend and descend a long journey, it is wiser to start early. Also, the earlier trekkers leave for Goechala, the better view they will get of the sunrise in the Himalayan range. Some of the peaks that trekkers can spot here are Kabru North, Kabru South, Kabru Dome, Sinvo, Gocha Jupano, Pandim, Kanchendzonga, and Tenzinkhay. After an entire tiresome day, reach the campsite at Lamuney and cherish a hot lunch. Keep your belongings packed and get prepared for the next campsite at Thansing or Kokcharang.
Day 9: Thansing or Kokcharang to Tsokha via Phedang
The next day is a 7-hour trek to cover 16 kms to reach Phedang. The day starts at 7 am so that you can reach the destination by 3 – 4 pm. Carry packed lunch to avoid stopping in between. In the first trail, trekkers have to cross Dzongri without having to travel through too much of a diverse road. Since the path does not consist of any steep ways, the environment here is quite fascinating. The most magnificent in this trail is the snow-covered peak of Mount Pandim. The cool breeze of the mountains is very relaxing and refreshing. After taking the desired rest, trekkers will continue trekking till Tsokha, about 5 kms from Phedang. Avoid too many breaks as trekkers will have to reach Tsokha before it is dark. Have a good night's sleep as the next day is quite hectic.
Day 10: Tsokha to Yuksom via Bakhim and Sachen
Today, the targeted destination is Yuksom which trekkers have to reach via Bakhim and Sachen. The ideal time to cover this distance is 7 hours. Packed lunch is carried as the break time needs to be reduced to reach the destination fast. The trail for coming down is the same as that of ascending to Goechala. The road from Sachen is not a favorable one as the pathway has a zigzag pattern. However, it can cause trekkers physical exhaustion but is only a few meters. Refresh yourself and take a shower on reaching Yuksom town. You can also take a look at the Sikkim monasteries to know more about their culture.
Day 11: Yuksom to NJP
This is the last and the final day of trekking. The ideal time to start the day is at 8 am. The distance to be covered is 150 kms and will take nearly 8 to 9 hours. Get back to Jorthang and enjoy lunch from one of the several eateries available. If the trains from NJP station are not available, wait for a day. However, you can reach NJP approximately by 5 pm.
The entire Goechala trek cost includes and excludes certain things. Let's see what it includes:
Accommodation

Meals (vegetarian and non-vegetarian [egg])

All required permits and entry fees

Equipment of the trek – mattress, sleeping bags, tent, dining, kitchen, utensils, toilet, and crampon (if required)

Oxygen cylinder and first aid kit

Black Yak Expeditions staff insurance

Guide, cook, mountaineering qualified, and professional trek leader

Transportation facility from NJP to Yuksom and return

Mules to carry central luggage
The Goechala trek excludes the following:
Insurance

Food during the transit

Personal expenses

Porter or mules to carry personal luggage

Emergency evacuation charges

Anything that is not mentioned
For an individual, the cost of a Goechala trek is Rs. 22,000/-. This fee can be paid online or in cash. You can also provide us cheques or demand drafts. As soon as the payment is made, a confirmation email will be sent to you. Provide us the details that have been asked for in the mail.
The trek can be canceled before seven days from the start of the trek. Here, only 5% will be deducted as the trek cost from the entire charge, and the remaining will be refunded.

Trek can also be canceled six days before the start of the trek. Here, the 100% money will be refunded.

If treks are canceled at the start of the trek date, only 20% will be refunded.
To make your Goechala trek a memorable one, you need to carry all the essential items so that you do not land in any trouble in the mountains. Here are the essential items that a trekker needs to carry:
Backpack

Day pack

Walking stick

Head torch

Snacks

Personal medical kit

Water bottle or hydration pack

Thermos flask

T-shirts

Fleece t-shirts

Fleece jackets

Down feather

Wind and waterproof jacket and pant

Trek pants

Poncho
Thermal inners

Lip balm

Sunscreen

Moisturizer

Toilet paper

Sunglasses

Sun cap

Woolen cap

Neck gaiters

Balaclava

Trekking shoes

Cotton and woolen socks

Floaters

Waterproof gloves

Woolen gloves
Fitness Required for Goechala Trek
Since Goechala trekking involves physical activities, one has to be fit and fine to climb the mountains. This fitness regime is a part of the Goechala trek guide. Here is the BMI chart that trekkers should abide by:
| | |
| --- | --- |
| BMI Range | Category |
| Less than 16.5 | Severely underweight |
| 16.5 – 18.5 | Underweight |
| Underweight | Normal |
| 25 – 30 | Overweight |
| 30+ | Obese |
| 30 – 34.9 | Obese class I |
| 35 – 39.9 | Obese class II |
In case you do not have the correct BMI, consult your physician before you plan for the Goechala trek. Also, make sure you do not suffer from any chronic illness.
Goechala trek good for me?
Although the Goechala trek is a difficult one, many can complete it with their zeal and zest. The trekking begins at dawn and ends at dusk. Some of the mountain trails can be difficult to cross. But if you are a lover of adventure, you are sure to enjoy this trek. Only experienced trekkers should opt for trekking in Goechala.
What is the best time to trek to Goechala?
The best time for the Goechala trek is during the months of April, May, September, October, November, and December.
What are the minimum and maximum age limitsfor participating in the Goechala trek?
The minimum age limit of going for the Goechala trek is 12 years. However, minors (12 – 17 years) should be accompanied by their parents on the trek. As far as you are physically fit, there is no maximum age limit to trek. However, if you are above 60, carry a medical certificate from the doctor you deem fit.
Since the Goechala trek route map is not an easy and smooth one, some challenges are involved.
Before you begin the trek, it is important to understand the connection between high altitudes and your body. Be conscious of acute mountain sickness, nausea, mild headache, and discomfort.

Weather in the Himalayas is unpredictable. Although trekkers start their journey only when the weather is suitable, however, sometimes, you may face some snowfall or landslide. In such cases, it would be best to wait until the weather gets better.

Often you might have some minor injuries while trekking, like bruises or leg sprain. Severe injuries like significant cuts or fractures may also happen. Carrying a first aid kit can tackle minor injuries. For serious injuries, the patient needs to be moved to the nearest medical center.

In the remote areas of the Himalayas, mobile networks do not work. Walkie-talkie and runners are the only two options to communicate between campsites and different base camps.
Therefore, if you are interested in having some adventure in life, head straight to the Goechala trek. Talk to us and accompany us on the next Goechala trekking. Be a witness to the snow-filled mountains, the Himalayan ranges, and the wonderful nature in Goechala. Book your trek with us now and have an adventurous trekking experience that is one in a lifetime.