Dzongri Trek in West Sikkim is unquestionably a fairyland for mountain lovers and better short alternatives for Goechala Trek. Below you will find a wonderfully crafted Dzongri Trek Itinerary and an illustrated Dzongri Trek Map for this region.
Dzongri trekking is perhaps one of the most prominent short trekking tours in Sikkim for you to have a taste of the exotic Eastern Himalayas. A Perfect Exhilarating Way to Spend your Vacation in October, November, and December in India.
One of the famous attractions of Dzongri Trek is the view of the mighty Kanchenjunga on the horizon. Mt Kanchenjunga, with 8585 meters, holds the records of the third highest mountain in the world and the top highest in India.
Setting aside at least Eight days for Dzongri Trek will be perfect for those planning to trek with a family and children above seven years.
The eight Day Dzongri Trek Itinerary recommended by Black Yak Expeditions is family-friendly, children-friendly, and convenient for moderate trekkers. Overall the eight-days Itinerary is inclusive of your arrival in Yuksom before the trek and departure from Yuksom. Yuksom in West Sikkim is the base for Dzongri Trek.
It is possible to accomplish Dzongri Trek in five days or even four days. For those looking toward doing a short trek in Sikkim.
However, we don't recommend this Short Trek Itinerary plan at all unless you are extremely fit. Furthermore, you must be a habitual trekker.
You must have trekked at least up to 4500 meters before.
Though the Dzongri Trek map portrays as a short trek in Sikkim, it is equally challenging. The trial is mostly up. Above all, there is a big difference in walking in high altitudes as compared to low altitudes.
What makes it the best alternative for Goechala Trek ?
Up to four consecutive days, it shares a similar itinerary. Hence we have placed Dzongri Trek as the Best Alternative for Goechala Trek
Dzongri trek also presents a scenic view of the whole Sikkim Himalaya. It begins ranging from Singalila in the West and ends at Aralang Range on the left. Other notable peaks from this Trek include Rathong Peak, Kabru North, Kabru South, Pandim, Jophnu, and Tenzing Khang.
The trekking route starts from Yuksom in West Sikkim, located at 1,780 m
above sea level. The trekking duration can last up to one week at the most.
At the end of every day on this Trek, tourists have an incredible opportunity to explore the captivating landscapes of the untempered soil of the Sikkim mountains.
In short, the Dzongri trek itinerary offers tourists the chance to explore the splendid beauty of Himalayan peaks.
Apart from it, The Beautiful valleys, streams, rivers, and enchanting natural scenery makes Dzongri Trek an unforgettable experience to cherish for a lifetime.
Dzongri Trek Itinerary In Brief
From Where and How to plan for this Trek In 2021?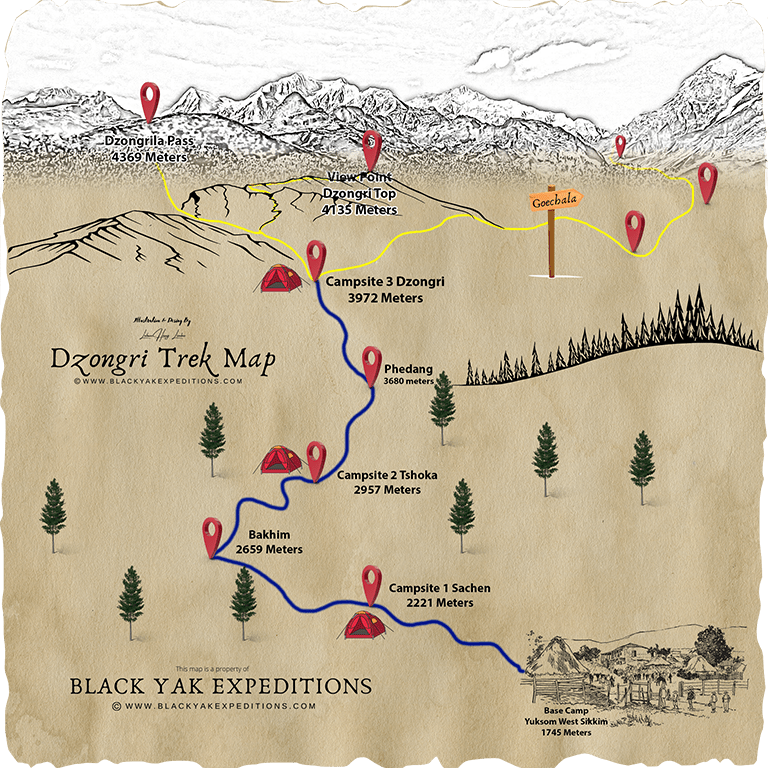 This Illustrated Dzongri Trek Map shows all the points from the Itinerary details that we have described above.
In addition, we have marked this trek Map From Yuksom Base Camp. It pinpoints all the camping sites within the boundaries of the Dzongri Trek Itinerary.
In our Dzongri Trek Map, we did not include the pickup points. We believe it is less necessary.
To be precise about the Dzongri Trek Map, Yuksom is the trekking station. Trekkers set out for a short trek from Yuksom to Sachen on foot and then proceed to Tshoka Day after tomorrow.
On Day 4, trekkers will reach Dzongri Camp. Day 5 is the primary Sightseeing day. Your Dzongri Trek guide will take you to Dzongri Top viewpoint and then to Dzongrilla Pass.
On day six, you will descend to Tshoka, and on day seven, you will reach Yuksom. Finally, you will check out on day eight to catch a flight, train, or your preferred destination. We Hope this article summarizes the details of the Dzongri Trek Map.